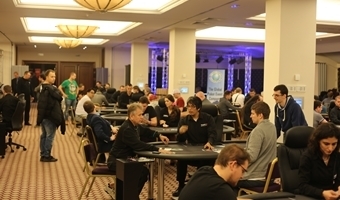 Fourteen players and the €35,000 cash prize for the winner, Tonybet Open Face Chinese Poker World Championship Main Event will crown the first-ever OFC world champion today.
The Day 2 of the event has already started with the remaining 13 competing for the title. After Day 1 its Russia's Nikita Nikolaev in the lead with 502,000 chips, followed by the Norwegian Mikal Blomlie with a 439,000 stack and another Russian player Maxim Panyak with 418,000.
The live stream of Day 2 action starts in a few minutes and you can watch it live on our blog at http://bit.ly/OFC-Live.
Since there was no live broadcast yesterday, check out this video to see what's been going on: