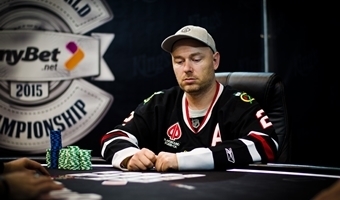 On Wednesday night the Tonybet Poker Open Face Chinese World Championship crowned its new Queen, Russia's Alexandra Usoltseva, who triumphed in the €1,000 Main Event for a €30,000 payday. Not far from the title was Canada's Jean-Philippe Piquette. He had the chip lead with five players left, however, he wasn't able to hold on to it.
With 118 players in the field, the OFC World Championship Main Event became the biggest live Open Face Chinese tournament of the year, and Piquette agrees that finishing in third place for €12,034 is not a bad result. We caught up with Jean-Philippe to get the grip on his thoughts about the event.
What are your impressions about the OFC Poker World Championship?
I play a lot of OFC on the apps with my friends. There are not many Open Face Chinese poker tournaments in the world, so it's nice to play the game live. I played last year's event and got close to the money, but unfortunately didn't cash.
I like it here, it's a very fun game. It's not like Hold'em or other games when you're card-dead and got no action for one of two hours. When you play OFC you're playing every hand so it's more interesting.
What's your opinion about the event itself, its structure?
I like it, the structure was nice. Of course at the end, if you have nothing for two or three hands in a row – you're out. But the dealers were very nice, they would help the players count their points, so the action was fast and the pace was nice.
Are you happy with the third place or are you disappointed that you didn't win?
Every time you go deep in a tournament you expect to win it. At some point I was the chip leader, I think it was when there were five players left, but then things didn't go well for me. Unfortunately, there's not much you can do about it.
Is finishing third something worth celebrating?
I have mixed feelings about it. I'm happy with my winnings, but not the fact that I only finished third, but it's okay. I'm off to play some more tournaments here in Prague and hopefully I'll do even better there.