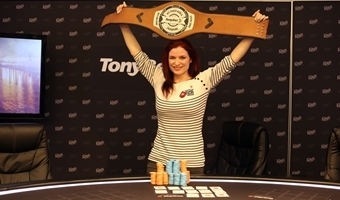 For the past few weeks Tonybet Poker has been the busiest poker site around. Just recently they've launched Texas Hold'em and Pot-limit Omaha to its poker client which was previously dedicated solely to Open Face Chinese. The news came just before the second annual OFC World Championship which will take place in Prague, Czech Republic from December 6th to 9th.
One of the best-known poker names to compete for the title in the biggest live OFC event of the year is none other than last year's High Roller champion and two-time US women's chess champion Jennifer Shahade.
With the site still giving away seats to the live event on their online poker platform, Shahade says she didn't yet have the chance to qualify, but is looking forward to some online Open Face Chinese action ahead of December's big event. Last year's OFC belt winner also said she cannot wait to visit Prague, which becomes the European poker capital in December.
What are your memories and highlights from last year's event?
My strongest memories: my last minute decision to play and racing to the tournament hall to late-reg, fueled by many shots of espresso; staying alive just before dinner break with a running pair in a spot where I was over 50% to bust; discovering I was wearing my shirt inside-out around 12 hours into play; having so much support from people I had no idea were rooting for me, and celebrating with champagne at around 5 AM with members of the Tonybet and Kings' Casino team, and Warren Lush (who convinced me to play!).
How important was winning the High Roller event for you?
Very, it was a huge confidence boost. Prague is also one of the best cities in the world to celebrate a victory, especially during an EPT.
Obviously you've received a lot of attention from friends as well as the media after the win, please tell us more about this experience?
This was great! I even made my first poker magazine cover (ty to Libs Foord and Tomas Stacha!) as a result. I also really enjoyed making recap videos on the play for Run It Once, and a blog going over the highlights for PokerStars.
What are your expectations for this year's event?
This year I will be taking a quick break from hosting the final stop of the Grand Chess Tour in London to play in the OFC World Championship. I think my mind will be sharp from analyzing the games of players like World Champion Magnus Carlsen and top US GMs Hikaru Nakamura and Fabiano Caruana. OFC has a lot in common with chess – it's quite grueling and I expect to do a good job at alternately conserving and narrowing my focus.
Have you already played the online satellites at TonybetPoker.com?
Not yet, but I plan to. It's a good idea to get some tournament and three-handed practice in advance of the big one.

What would you say to someone still wondering whether to come to Prague for the OFC World Championship?
December in Prague is like paradise for a poker player – I love the OFC World Championship at King's Casino because we normally play each other so often on our phones – it is fun to spar face- to-face with people who love the game. There are so many great tournaments and cash games to play at the European Poker Tour. There is even a chess and poker event on this year's EPT schedule. Prague is really beautiful this time of year. I look forward to walking through the Christmas markets and getting a few snowflakes in my hot chocolate or mulled wine!
If you haven't already qualified for the biggest live Open Face Chinese poker event of the year, you can still do it at TonybetPoker.com. This upcoming Monday the site is hosting a Super Qualifier rewarding as many as three guaranteed seats to the live event! If you're new to Tonybet, be sure to take advantage of the bonus code STARTER to receive a 100% up to €500 welcome bonus.