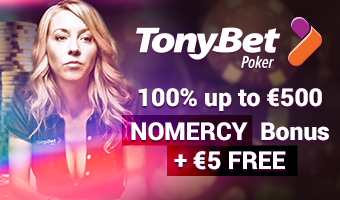 Pull your jaws back up, it's not that Mercier you just thought of, nonetheless, the news is still exciting. While Jason Mercier is up to his usual endeavors, the world's biggest Open Face Chinese poker site, Tonybet Poker introduced its new Team member, Isabelle Mercier.
One of the most recognized faces among the female pro poker players, Mercier has now become an ambassador not only for the online OFC poker site, but for the game itself. She will also host a weekly tournament on the site where players will have the chance to challenge Mercier at one of the fastest-growing poker games.
"Just as Giorgio Moroder knew that the synthesizer would be the sound of the future, I am more than convinced that OFC "is" the game of the future, and Tonybet Poker site is totally innovating by offering this form of poker in Cash Games and Tournaments," Isabelle said in an interview after joining the Tonybet Team. "That's why I am really proud to join the Tonybet Poker team and to be part of this adventure. Now, all I need to do is to spread my passion with the world, so people can fall in love with this game as much as I did!"
Going by the nickname "No Mercy" which was given to her by none other than the Poker Hall-of-Famer Mike Sexton after she won the WPT Ladies' Night event back in 2004, Mercier cashed more than $1,200,000 throughout her poker carrier.
She is well-known inside the poker community which she's been a member of since early 2000's. Mercier started her carrier as a poker room manager at the Aviation Club de France and then contributed to a few other poker sites.
Now, the new Tonybet Poker team member says she's all-into Open Face Chinese, which she's been playing for quite a while: "My history with OFC goes a long way back, way before you could actually play it online. But it's the new Pineapple Fantasyland variation that brought me back to OFC, therefore I naturally landed on Tonybet Poker. This new form of Open Face is so exciting and refreshing, this is what the poker world needed."
What's more, Mercier says she's been hooked up on Open Face Chinese ever since she discovered the game and has been playing it way more than Texas Hold'em or any other poker variations for that matter.
"Personally, since I have discovered OFC, I'm much less inclined to play regular poker, as this new game is so much more exciting! You get to play every hand, you're always thinking, time goes by without you seeing it! We are very far from a poker table where we play 2-3 hands per round."
Open Face Chinese is known as one of the most quickly-developing and constantly changing poker games giving the players an opportunity to invent new variations and ways of playing it. Mercier says it's one of the key factors why she's fascinated by OFC.
"I got hooked on the game really quickly, and then went on to discover the Progressive variation, which I liked even more than the original. And then… I started to play in Deuce-to-Seven format, and realized how often you actually make it to Fantasyland in this variation. So it became my favorite game, I play it all the time; I can go for hours non-stop. Which reminds me of my first years in poker… It has been a long time since I felt this way for a card game!"
Mercier will be joining the online Open face Chinese action in her very own "NoMercy Ride" tournament which will take place at Tonybet Poker evert Wednesday night. She invites all poker players to try the game rewarding a 100% welcome bonus up to €500 to everyone who signs up on the site with the bonus code "NOMERCY". All those to use the bonus code will also receive a free ticket to Mercier's exclusive online tournament.