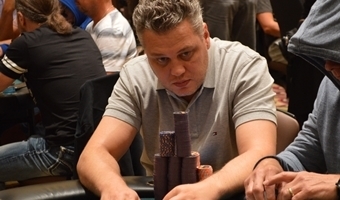 Tonybet Poker's OFC Grand Prix tournament series once again broke records last week with the Russian players dominating the field. One of them was the OFC pro Sergey Rybachenko who outplayed the field of 22 players in the High Roller event which generated a record-breaking prizepool with the winner taking home the biggest-ever first place prize in online OFC tournament history.
With the rush of the series already in the books we sat down with Rybachenko to talk about the win, his OFC experience and the future of the game.
Congratulations on your win in the Tonybet Poker OFC Grand Prix High Roller Event! Please tell us how does it feel to win the biggest online OFC poker tournament?
Thank you. It's always nice to win. However, I must say that the good feeling comes mostly from the fact that I won rather than the prize. On a regular day I usually earn more playing cash games at TonyBet, than the main prize of the High Roller event.
How long have you been playing Open Face Chinese Poker? What is your opinion about the game itself?
Basically I play it from the very beginning, when the game appeared. At first it was so call Classic Chinese where the players would receive 13 hole cards. Then a new game appeared in which players had to set open hands drawing just one card at a time. Then there was the Pineapple. I played all of these games for a rather long time, probably the most in Russia.
What is your experience in live OFC poker games?
I have a lot of experience playing live in the highest limits. Last year in Las Vegas I played a couple of games for $1,000 per point.
What are your future plans regarding Open Face Chinese poker?
I'm gonna play everywhere I can. Last year I played a lot of OFC during the WSOP in Las Vegas. This year I want to focus more on the tournaments, but my girlfriend is definitely going to hit the OFC tables in Vegas.
You finished 6th in the overall OFC Grand Prix player leaderboard, was it your goal to score the OFC World Championship package?
No, I didn't play all the tournaments, I missed some of them and entered the others on the very last minute. However, my girlfriend played most of the tournaments, I think she missed just one or two, so I think her result on the Leaderboard should be even better than mine.
Are you playing on other OFC poker sites? How would you compare them to Tonybet Poker?
I played on one other site before, but now I only play on TonyBet. I wouldn't like to make any comparisons as every place has its own advantages and disadvantages.
Just recently Tonybet Poker launched two new OFC poker variations: 2-7 Pineapple and Progressive Fantasy, what are your thoughts on these games?
I play all of the OFC variations. It's a shame there are no common rules for these games. For instance in live Games in Vegas they often differ from those on TonyBet.
What would be your advice to someone who is just starting to play OFC poker?
Observe the high-limit games and try to understand why the players are doing what they're doing. I believe this is the fastest way to learn.
Thank you for your answers and the best of luck in all your future OFC poker games!